Please Support Our Sponsor!

1
Vacant 2-1258
Vacant 1-1257

Eric S-287
Janet R-1762

2
5 Rick W-209
5 Stacey N-601

5 Jeff L-1898
3 Shawn L-210

3
14 Devin R-384
14 Julie C-126

1 Steve T-2149
Andy M-386

4
4 Matthew L-1758
4 Kathy P-2310

5 Jan R-2325
5 Mariel J-2449

5
10 Alli I-2495
10 Cole G-1789

8 Ron H-2297
8 Peggy G-1910

6
6 Sean G-2151
6 Curt C-152

6 Ed W-1535
6 Nancy M-2112

7
8 Rick T-182
8 Linda I-216

4 Sheila K-1661
4 Rodney E-1807

8
6 Jenn D-1232
6 Vince W-2482

8 Barb M-1801
8 Darrec M-2494

9
3 Wright W-2505
3 Sandy K-833

5 Drew C-1108
5 Kathy H-2320

10
4 Victoria L-34
4 Edward B-411

4 Gig G-2501
4 Paul D-1601

11
11 Evan D-56
11 Jon K-2447

4 Angel J-2506
4 Chris K-1237

12
6 Mark F-1927
6 Eddie D-654

5 Kevin M-2504
5 Marla L-2242

13
1 Corrina M-2213
1 Jay E-180

8 Chris T-1982
8 Tammy M-1787

14
3 Theresa M-1757
3 Chris G-1621

11 Tony M-268
11 Parri G-2502

15
6 Julie H-2100
6 Shelby B-925

4 Kytina P-2013
Carl I-49

Erica and Jimmy's Annual Euchre Party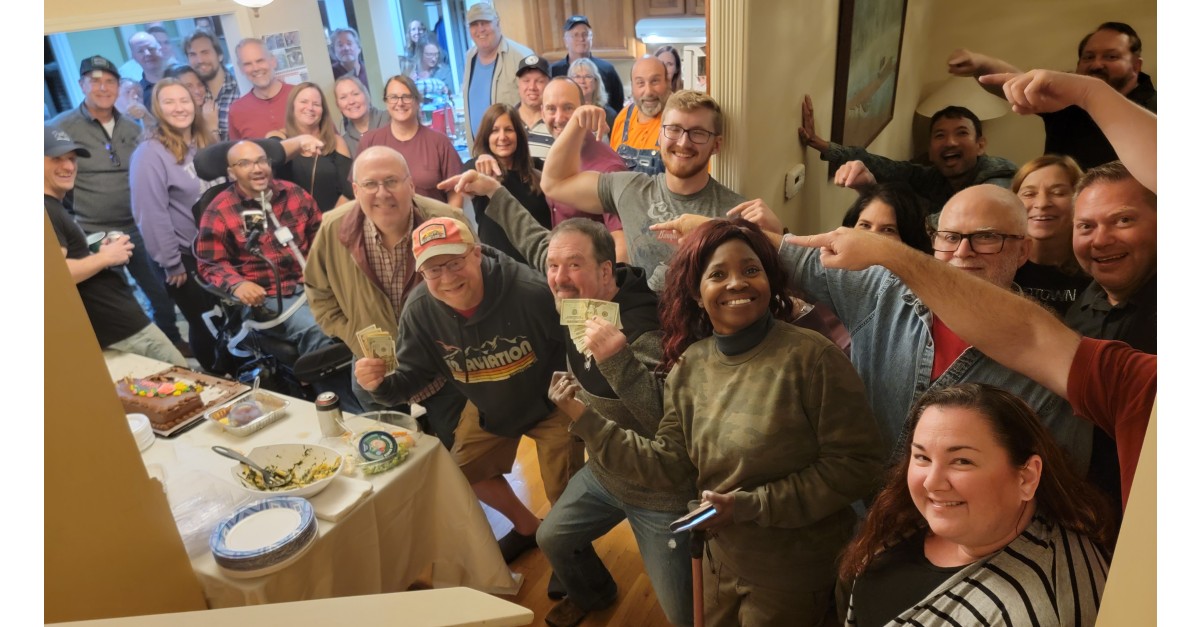 until

Darby Connections
310 Creedmore St
Commerce Township, MI 48382
248-975-7512
Do you plan to participate?
---
Please be COVID-19 Vaccinated for this party. This party is at Erica and Jimmy's house, it is not that big, and people will be packed in. We already have over 50 people that indicated they are coming. We don't want to be a Super Spreader Event. Please make sure you meet/know Erica and Jimmy or one of their friends. They would prefer not to have complete strangers in their house.
This party is more about meeting people and having fun than serious cards. Expect a lot of drinkers, slow play, sloppy play, and long breaks between rounds due to socializing. On the same note, try not to be "That Drunk". Don't get too out of control, have a designated driver, and stay the night if you are not fit to drive. Non-players are welcomed but won't have as much fun.

This is an individual style tournament where you get a different partner each round. No rounds will start after 11:30 for people with babysitters, but the party often goes on. $10 cover goes towards the first place, second place, cards, tables, chairs and other supplies. Bring your own drinks. This is a Pot Luck Party. If you want to contribute, bring a dish, drink or cash to share. It is not required. Erica is in charge of food and beverage, so ask her what is needed.

You don't have to RSVP, but the party will be run through the DarbyConnections.com website. All players must be registered on the site! It saves a lot of hassle if people are registered before coming. PLEASE BRING A FRIEND! This is all about meeting new people. We get people of all ages at this party from 21 (min age) to people in their 70's. We will be using text messaging to let you know where your seat is and let you record your score. It is fine to show up late because we only count the top five games.
Rules:
Individuals Tournament. You will be assigned a partner for each round.
Only your top five scores count! This is to help account for people that are late and miss a round. The person that gets the most points wins. Tie breakers goes to the person with highest hand(s).
Prizes for first and second place.
Must be present to win.
No hands start after 11:30 pm.
A "game" is made up of eight hands with each player dealing twice.
You can get more than 10 points.
No stealing the deal.
Change partners after each game. Darby Connections assigns seats.
If there is an odd number of players, the odd players can play on Trickster Cards against each other and the computers for a score.
"Screw the Dealer"
WHEN GOING ALONE the opposite team gets four points for Euchres and reneges.
No table talk regarding the current hand. Talk your heads off about everything else. THIS IS A SOCIAL EVENT!
Don't be a jerk!
Drink responsibly and don't drive under the influence.
Have fun!
The party is at Erica and Jimmy's House.
310 Creedmore St.
Commerce Twp, Michigan 48382
.
.
1
Vacant 2-1258
Vacant 1-1257

Eric S-287
Janet R-1762

2
5 Rick W-209
5 Stacey N-601

5 Jeff L-1898
3 Shawn L-210

3
14 Devin R-384
14 Julie C-126

1 Steve T-2149
Andy M-386

4
4 Matthew L-1758
4 Kathy P-2310

5 Jan R-2325
5 Mariel J-2449

5
10 Alli I-2495
10 Cole G-1789

8 Ron H-2297
8 Peggy G-1910

6
6 Sean G-2151
6 Curt C-152

6 Ed W-1535
6 Nancy M-2112

7
8 Rick T-182
8 Linda I-216

4 Sheila K-1661
4 Rodney E-1807

8
6 Jenn D-1232
6 Vince W-2482

8 Barb M-1801
8 Darrec M-2494

9
3 Wright W-2505
3 Sandy K-833

5 Drew C-1108
5 Kathy H-2320

10
4 Victoria L-34
4 Edward B-411

4 Gig G-2501
4 Paul D-1601

11
11 Evan D-56
11 Jon K-2447

4 Angel J-2506
4 Chris K-1237

12
6 Mark F-1927
6 Eddie D-654

5 Kevin M-2504
5 Marla L-2242

13
1 Corrina M-2213
1 Jay E-180

8 Chris T-1982
8 Tammy M-1787

14
3 Theresa M-1757
3 Chris G-1621

11 Tony M-268
11 Parri G-2502

15
6 Julie H-2100
6 Shelby B-925

4 Kytina P-2013
Carl I-49

1
7 Victoria L-34
7 Tony M-268

8 Renee S-1414
9 Rodney E-1807

2
5 Wright W-2505
5 Matthew L-1758

4 Julie C-126
4 Evan D-56

3
10 Rick T-182
10 Darrec M-2494

2 Kathy P-2310
2 Curt C-152

4
8 Sean G-2151
8 Stacey N-601

5 Sandy K-833
5 Peggy G-1910

5
8 Linda I-216
6 Barb M-1801

5 Ron H-2297
5 Steve T-2149

6
4 Parri G-2502
4 Jeff L-1898

6 Kevin M-2504
6 Vince W-2482

7
3 Kytina P-2013
3 Jay E-180

6 Jan R-2325
6 Shelby B-925

8
1 Erica D-11
1 Eric S-287

7 Paul D-1601
7 Ed W-1535

9
7 Edward B-411
7 Corrina M-2213

3 Angel J-2506
3 Marla L-2242

10
7 Carl I-49
7 Andy M-386

10 Nancy M-2112
10 Chris T-1982

11
8 Julie H-2100
8 Eddie D-654

7 Chris G-1621
7 Shawn L-210

12
5 Janet R-1762
5 Chris K-1237

4 Cindy B-943
4 Cole G-1789

13
6 Theresa M-1757
6 Gig G-2501

6 Sheila K-1661
6 Mariel J-2449

14
5 Drew C-1108
5 Jon K-2447

5 Mark F-1927
5 Tammy M-1787

15
10 Devin R-384
Alli I-2495

5 Rick W-209
5 Jenn D-1232

16
Vacant 2-1258
Vacant 1-1257

5 Kathy H-2320
5 Jimmy D-3

1
6 Rick T-182
6 Corrina M-2213

4 Cole G-1789
4 Jan R-2325

2
7 Matthew L-1758
7 Chris T-1982

3 Sheila K-1661
3 Eric S-287

3
6 Sean G-2151
6 Parri G-2502

9 Jenn D-1232
9 Ron H-2297

4
4 Renee S-1414
4 Vince W-2482

8 Kathy P-2310
8 Jay E-180

5
1 Carl I-49
1 Rodney E-1807

7 Shawn L-210
7 Chris K-1237

6
11 Kathy H-2320
11 Gig G-2501

2 Ed W-1535
2 Shelby B-925

7
7 Kytina P-2013
7 Chris G-1621

4 Nancy M-2112
4 Emi B-1695

8
5 Cindy B-943
5 Drew C-1108

11 Julie C-126
11 Jeff L-1898

9
3 Andy M-386
3 Mariel J-2449

7 Erica D-11
7 Tony M-268

10
12 Evan D-56
12 Steve T-2149

3 Curt C-152
3 Mark F-1927

11
9 Jon K-2447
9 Kevin M-2504

6 Kathy H-160
6 Barb M-1801

12
12 Julie H-2100
12 Stacey N-601

0 Marla L-2242
0 Paul D-1601

13
9 Angel J-2506
9 Janet R-1762

3 Eddie D-654
3 Alli I-2495

14
12 Devin R-384
12 Sandy K-833

3 Linda I-216
3 Bill J-1738

15
3 Tammy M-1787
3 Rick W-209

7 Darrec M-2494
7 Edward B-411

16
3 Victoria L-34
3 Peggy G-1910

11 Theresa M-1757
11 Wright W-2505

1
6 Sean G-2151
6 Chris T-1982

4 Wright W-2505
4 Kevin M-2504

2
5 Renee S-1414
5 Evan D-56

8 Ron H-2297
8 Drew C-1108

3
10 Emi B-1695
10 Jay E-180

3 Ed W-1535
3 Angel J-2506

4
8 Parri G-2502
8 Barb M-1801

3 Mark F-1927
3 Cole G-1789

5
11 Linda I-216
11 Darrec M-2494

5 Paul D-1601
5 Shelby B-925

6
4 Kytina P-2013
4 Eric S-287

7 Chris K-1237
7 Mariel J-2449

7
9 Marla L-2242
9 Andy M-386

3 Rodney E-1807
3 Theresa M-1757

8
6 Cindy B-943
9 Devin R-384

9 Curt C-152
9 Rick W-209

9
6 Jan R-2325
6 Janet R-1762

5 Erica D-11
5 Vince W-2482

10
3 Julie H-2100
3 Corrina M-2213

9 Carl I-49
9 Gig G-2501

11
9 Jon K-2447
9 Sandy K-833

1 Julie C-126
1 Kathy P-2310

12
3 Edward B-411
3 Jenn D-1232

7 Sheila K-1661
7 Shawn L-210

13
8 Steve T-2149
8 Victoria L-34

5 Stacey N-601
5 Bill J-1738

14
3 Jeff L-1898
3 Alli I-2495

7 Kathy H-160
7 Chris G-1621

15
2 Eddie D-654
2 Kathy H-2320

8 Nancy M-2112
8 Tony M-268

16
4 Matthew L-1758
4 Tammy M-1787

5 Peggy G-1910
5 Rick T-182

1
10 Shawn L-210
10 Kathy H-2320

1 Janet R-1762
1 Andy M-386

2
9 Jay E-180
9 Marla L-2242

4 Mariel J-2449
4 Chris G-1621

3
8 Parri G-2502
8 Matthew L-1758

6 Kathy H-160
6 Chris K-1237

4
7 Rick W-209
7 Eddie D-654

7 Bill J-1738
7 Rick T-182

5
2 Rodney E-1807
2 Kytina P-2013

12 Erica D-11
12 Gig G-2501

6
6 Tammy M-1787
4 Barb M-1801

6 Evan D-56
6 Kathy P-2310

7
9 Jan R-2325
9 Eric S-287

3 Nancy M-2112
3 Angel J-2506

8
8 Julie H-2100
8 Alli I-2495

3 Chris T-1982
3 Linda I-216

9
3 Victoria L-34
3 Vince W-2482

7 Cindy B-943
7 Sandy K-833

10
8 Steve T-2149
8 Peggy G-1910

4 Tony M-268
4 Kevin M-2504

11
2 Darrec M-2494
2 Jeff L-1898

11 Sheila K-1661
11 Ed W-1535

12
1 Corrina M-2213
1 Stacey N-601

10 Ron H-2297
10 Julie C-126

13
4 Jon K-2447
4 Curt C-152

7 Edward B-411
7 Cole G-1789

14
6 Carl I-49
6 Paul D-1601

5 Emi B-1695
5 Drew C-1108

15
6 Jenn D-1232
6 Devin R-384

5 Mark F-1927
5 Wright W-2505

16
3 Sean G-2151
3 Theresa M-1757

13 Shelby B-925
13 Renee S-1414

1
4 Emi B-1695
4 Rodney E-1807

6 Eric S-287
6 Shelby B-925

2
4 Kevin M-2504
4 Kathy P-2310

10 Cindy B-943
10 Ron H-2297

3
7 Jon K-2447
7 Peggy G-1910

4 Renee S-1414
4 Devin R-384

4
11 Tony M-268
11 Jenn D-1232

6 Sandy K-833
6 Evan D-56

5
10 Jan R-2325
10 Ed W-1535

4 Shawn L-210
4 Marla L-2242

6
7 Drew C-1108
7 Vince W-2482

5 Edward B-411
5 Steve T-2149

7
4 Julie H-2100
4 Darrec M-2494

5 Mark F-1927
5 Bill J-1738

8
4 Eddie D-654
4 Corrina M-2213

6 Jeff L-1898
6 Barb M-1801

9
4 Nancy M-2112
4 Jay E-180

6 Chris K-1237
6 Erica D-11

10
5 Chris G-1621
5 Andy M-386

7 Gig G-2501
7 Angel J-2506

11
12 Stacey N-601
12 Rick T-182

5 Alli I-2495
5 Matthew L-1758

12
5 Curt C-152
5 Julie C-126

5 Parri G-2502
5 Chris T-1982

13
4 Sheila K-1661
4 Kytina P-2013

8 Kathy H-2320
8 Paul D-1601

14
10 Sean G-2151
10 Kathy H-160

2 Linda I-216
2 Cole G-1789

15
9 Tammy M-1787
9 Carl I-49

1 Janet R-1762
1 Theresa M-1757

16
5 Rick W-209
5 Wright W-2505

11 Victoria L-34
11 Mariel J-2449

1
3 Wright W-2505
3 Linda I-216

12 Tammy M-1787
12 Parri G-2502

2
7 Paul D-1601
7 Mariel J-2449

4 Nancy M-2112
4 Rodney E-1807

3
10 Kytina P-2013
10 Andy M-386

3 Ed W-1535
3 Renee S-1414

4
3 Erica D-11
3 Julie C-126

7 Shawn L-210
7 Angel J-2506

5
10 Corrina M-2213
10 Rick W-209

5 Mark F-1927
5 Alli I-2495

6
3 Sheila K-1661
3 Chris G-1621

6 Carl I-49
6 Jan R-2325

7
10 Stacey N-601
10 Darrec M-2494

3 Cole G-1789
3 Eddie D-654

8
2 Rick T-182
2 Julie H-2100

13 Jeff L-1898
13 Sandy K-833

9
6 Victoria L-34
6 Evan D-56

5 Kevin M-2504
5 Devin R-384

10
9 Jon K-2447
9 Jenn D-1232

5 Cindy B-943
5 Steve T-2149

11
8 Peggy G-1910
8 Bill J-1738

10 Drew C-1108
10 Kathy P-2310

12
4 Barb M-1801
4 Matthew L-1758

9 Sean G-2151
9 Cheryl C-233

13
3 Marla L-2242
3 Chris K-1237

9 Gig G-2501
9 Emi B-1695

14
7 Curt C-152
7 Tony M-268

11 Ron H-2297
11 Vince W-2482

15
4 Theresa M-1757
4 Jay E-180

6 Eric S-287
6 Kathy H-2320

16
5 Edward B-411
5 Janet R-1762

7 Shelby B-925
7 Chris T-1982

1
8 Paul D-1601
8 Barb M-1801

7 Chris T-1982
7 Sandy K-833

2
4 Cindy B-943
4 Mark F-1927

7 Rick T-182
7 Nancy M-2112

3
4 Kathy H-2320
4 Devin R-384

4 Edward B-411
4 Stacey N-601

4
4 Chris K-1237
4 Peggy G-1910

7 Vince W-2482
4 Corrina M-2213

5
7 Jay E-180
7 Sheila K-1661

8 Jon K-2447
8 Janet R-1762

6
3 Linda I-216
3 Matthew L-1758

7 Ed W-1535
7 Chris G-1621

7
1 Julie C-126
1 Tony M-268

10 Eric S-287
10 Gig G-2501

9
4 Marla L-2242
4 Carl I-49

5 Erica D-11
5 Evan D-56

10
5 Drew C-1108
5 Victoria L-34

4 Jenn D-1232
4 Curt C-152

11
14 Tammy M-1787
14 Sean G-2151

1 Jeff L-1898
1 Renee S-1414

12
5 Eddie D-654
5 Andy M-386

4 Cheryl C-233
4 Parri G-2502

13
3 Cole G-1789
3 Julie H-2100

9 Rick W-209
9 Kevin M-2504

14
7 Wright W-2505
7 Steve T-2149

4 Rodney E-1807
4 Jan R-2325

15
1 Theresa M-1757
1 Shawn L-210

12 Kytina P-2013
12 Kathy P-2310