Please Support Our Sponsor!

Darby Appraisers
Appraisal Discount for Darby Connections Members
See Details
1
Rosario-1599
7 Steve-1598

2 Jay-180
2 Jimmy-3

2
6 Edward-411
6 Sandy-833

12 Shirley-1579
12 Lori-445

3
7 Theresa-1757
7 Cindy-943

5 Marikay-1575
5 Patty-1567

4
5 Marcy-1248
5 Rick-182

10 Julie-126
10 Ed-1535

5
8 Eric-287
8 Stacey-601

6 Glenn-1275
Cooper-1552

6
4 Nan-1277
4 Nancy-1605

8 Kathy-160
Devin-384

7
5 Jill-1529
5 Kat-1581

5 Dennis-1894
5 Paul-1601

Casual Euchre (MOVED to Library Pub)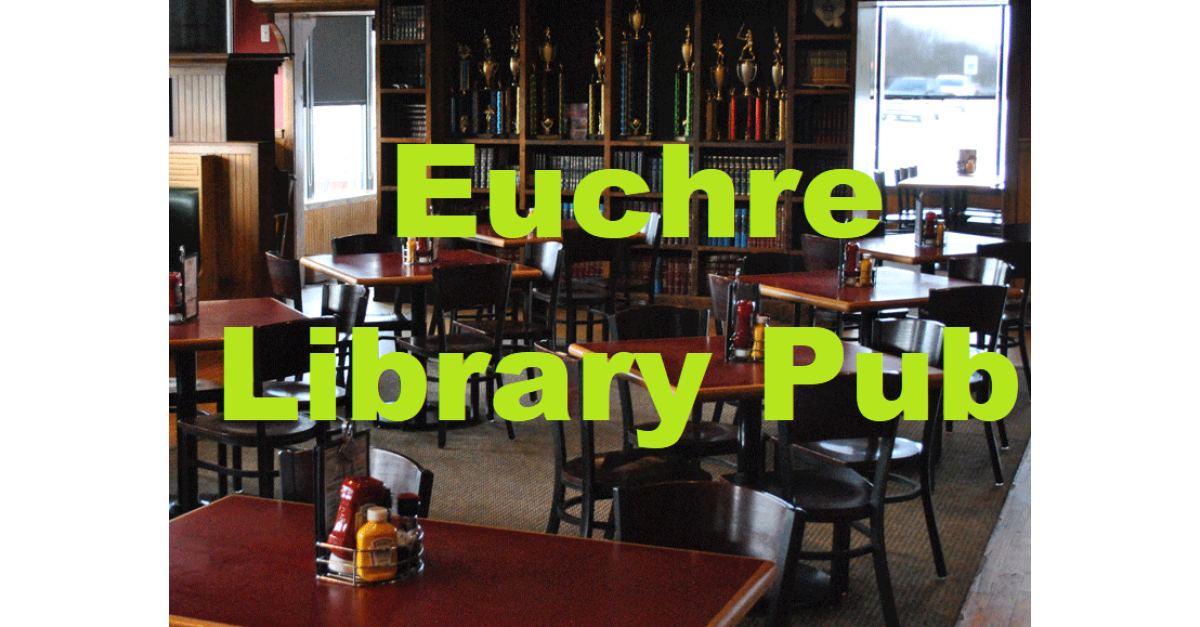 until
Do you plan to attend?
---
This event is held at Library Pub in West Bloomfield, Michigan!
There is a prize the the person with the highest score each week and a bigger prize for the winner of the month. The contest is a combination of in person events and online events. There are no fees for this event.
For this event, you do not need to show up at the start time and you can leave whenever you want. It is a VERY flexible event. Some people show up before start time and others show up around 8:00. Leave whenever you like.
If you do not know how to play Euchre, no worries! We often have new people join us. Look at these How to Play Euchre videos first. You can also just show up. This is primarily a social event and teaching/learning is socializing!
To join, create an account on this site DarbyConnections.com and show up. This is a casual monthly euchre contest. Don't worry, you do not have to show up every week nor do you need to play all evening. The sum of your top ten games is your score. We typically play about eight games an evening, so it should not be hard. Here are the rules:
No fees or purchase necessary
The sum of your top ten games throughout the month is your score.
The person that gets the most points each night gets a prize. Tie breakers goes to the person with highest hand.
No hands start after 8:30 pm. We usually play around eight rounds a night. Play as many as you like. You can skip a couple of weeks and be just fine.
A "game" is made up of eight hands with each player dealing twice.
You can get more than 10 points.
No stealing the deal.
Change partners after each game. Darby Connections assigns seats.
"Screw the Dealer"
WHEN GOING ALONE the opposite team gets four points for Euchres and reneges.
No table talk regarding the current hand. Talk your heads off about everything else. THIS IS A SOCIAL EVENT!
Don't be a jerk!
Have fun!
Register so that we can track your seats and scores. We use text messaging to assign seats and record scores.
If you are registered and logged in, you can see your scores on your Dashboard
1
Rosario-1599
7 Steve-1598

2 Jay-180
2 Jimmy-3

2
6 Edward-411
6 Sandy-833

12 Shirley-1579
12 Lori-445

3
7 Theresa-1757
7 Cindy-943

5 Marikay-1575
5 Patty-1567

4
5 Marcy-1248
5 Rick-182

10 Julie-126
10 Ed-1535

5
8 Eric-287
8 Stacey-601

6 Glenn-1275
Cooper-1552

6
4 Nan-1277
4 Nancy-1605

8 Kathy-160
Devin-384

7
5 Jill-1529
5 Kat-1581

5 Dennis-1894
5 Paul-1601

1
7 Rosario-1599
6 Sandy-833

4 Marcy-1248
4 Paul-1601

2
8 Glenn-1275
9 Cindy-943

4 Shirley-1579
4 Kat-1581

3
6 Nan-1277
6 Stacey-601

5 Lori-445
5 Jimmy-3

4
5 Dennis-1894
5 Jay-180

Devin-384
8 Marikay-1575

5
6 Patty-1567
6 Cooper-1552

14 Julie-126
14 Steve-1598

6
4 Kathy-160
4 Edward-411

8 Rick-182
8 Eric-287

7
6 Theresa-1757
6 Nancy-1605

5 Jill-1529
5 Ed-1535

1
5 Marcy-1248
5 Jimmy-3

Devin-384
6 Cindy-943

2
11 Dennis-1894
11 Shirley-1579

5 Cooper-1552
5 Rick-182

3
8 Kat-1581
8 Julie-126

4 Sandy-833
4 Stacey-601

4
2 Kathy-160
2 Marikay-1575

8 Steve-1598
8 Paul-1601

5
7 Jay-180
9 Lori-445

3 Nancy-1605
3 Patty-1567

6
6 Eric-287
6 Theresa-1757

9 Jill-1529
9 Edward-411

7
13 Glenn-1275
13 Ed-1535

6 Nan-1277
6 Rosario-1599

1
4 Marcy-1248
4 Marikay-1575

7 Kat-1581
7 Cooper-1552

2
10 Dennis-1894
10 Nan-1277

6 Rosario-1599
1 Cindy-943

3
5 Jimmy-3
5 Shirley-1579

7 Patty-1567
7 Jill-1529

4
14 Julie-126
Devin-384

3 Eric-287
7 Lori-445

5
6 Kathy-160
6 Jay-180

10 Glenn-1275
10 Sandy-833

6
6 Rick-182
6 Paul-1601

7 Edward-411
7 Nancy-1605

7
7 Stacey-601
7 Steve-1598

6 Ed-1535
6 Theresa-1757

1
9 Paul-1601
3 Lori-445

4 Theresa-1757
4 Nan-1277

2
4 Julie-126
4 Cindy-943

7 Edward-411
7 Jay-180

3
2 Kathy-160
2 Patty-1567

10 Kat-1581
10 Ed-1535

4
5 Rick-182
5 Stacey-601

Devin-384
10 Jill-1529

5
5 Eric-287
5 Marikay-1575

5 Shirley-1579
1 Rosario-1599

6
4 Marcy-1248
4 Glenn-1275

8 Steve-1598
8 Dennis-1894

7
5 Erica-11
5 Nancy-1605

4 Sandy-833
5 Jimmy-3

1
6 Jay-180
6 Ed-1535

9 Eric-287
9 Paul-1601

2
4 Jill-1529
4 Glenn-1275

5 Rosario-1599
5 Julie-126

3
4 Patty-1567
4 Marcy-1248

6 Stacey-601
6 Dennis-1894

4
4 Steve-1598
4 Nan-1277

5 Kat-1581
5 Rick-182

5
5 Edward-411
5 Jimmy-3

9 Erica-11
8 Marikay-1575

6
7 Shirley-1579
55 Devin-384

5 Kathy-160
7 Theresa-1757