Casual Euchre

until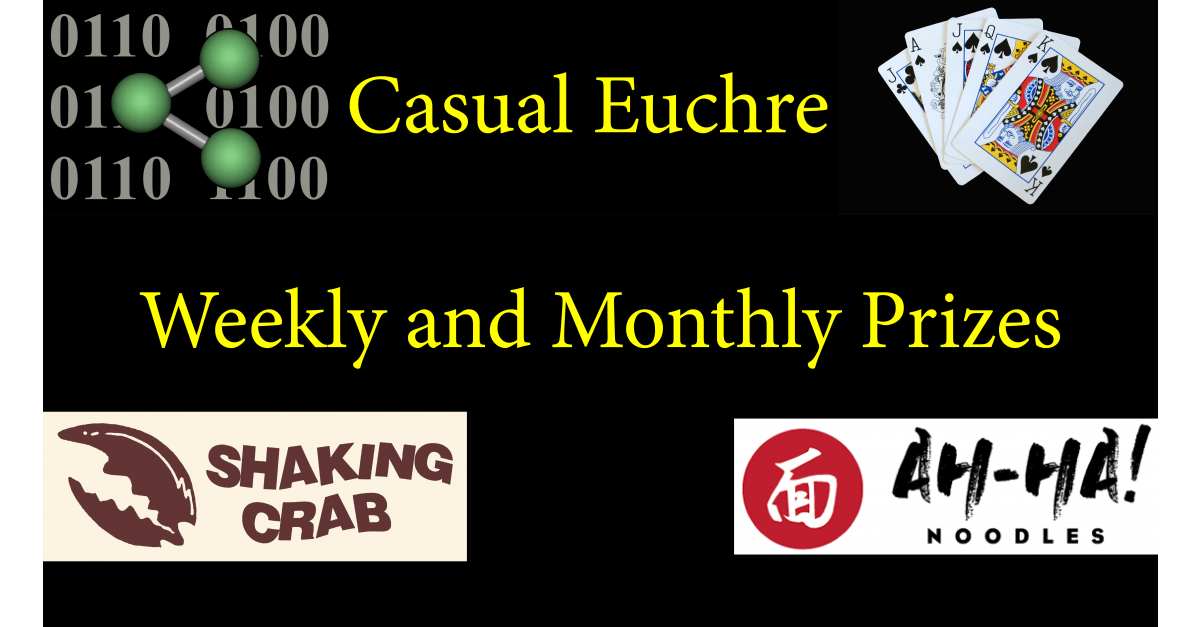 There is a prize the the person with the highest score each night and a bigger prize the the winner of the month. There are no fees for this event.
For this event, you do not need to show up at the start time and you can leave whenever you want. It is a VERY flexible event. Some people show up before start time and others show up around 8:00. Leave whenever you like.
If you do not know how to play Euchre, no worries! We often have new people join us. Look at these How to Play Euchre videos first. You can also just show up. This is primarily a social event and teaching/learning is socializing!
You need a computer or phone with a camera to participate. This is a video event. We want to see your beautiful face. We are basically using two Apps for this event: One for the video and one for the game. It is best to have your video on a device where you can see about 30 people on one screen. Most people just use their computer but others have a combination of a computer, tablet or phone.
To join, create an account on this site DarbyConnections.com Log in and go to your Dashboard/Members Area to figure out what your user ID is. Your user ID is towards the top of the page. We want this number to be part of your Trickster Cards ID. At the top of the Dashboard is a button "Go to Video Lobby". Select that when you are ready to join the party with video.
Create an account at Trickster Cards It is Free. For a user name, use your first name-ID (ID from Darby Connections Dashboard) like Jimmy-622 If you already have an account on Trickster with a different name, it is not that big of a deal. You just need to let the other players know. Create your account on Trickster as soon as possible. Trickster seems to be running a little sluggish with their emails. Check your spam folders. Create a password for your account. See https://darbyconnections.com/articles/50 for more instructions on Trickster.
When it is time to play, go to the Video Lobby You can launch Trickster form there. When there are enough players, we will put people into breakout rooms to play a round. The rules are below. We will send a text message to your phone to indicate who your partner is. When you are done with that round, you reply to the text message on your phone with your score. Then select the option to go back to the Lobby for the next round...or you can chat with your new friends in your room!
This is a casual monthly euchre contest. Don't worry, you do not have to show up every week nor do you need to play all evening. The sum of your top ten games is your score. We typically play about seven games an evening, so it should not be hard. Here are the rules:
No fees or purchase necessary
The sum of your top ten games throughout the month is your score.
The person that gets the most points each night gets a prize. Tie breakers goes to the person with highest hand.
No hands start after 9:00 pm. We usually play around eight rounds a night. Play as many as you like. You can skip a couple of weeks and be just fine.
A "game" is made up of eight hands with each player dealing twice.
You can get more than 10 points.
No stealing the deal.
Change partners after each game. Darby Connections assigns seats.
"Screw the Dealer"
WHEN GOING ALONE the opposite team gets four points for Euchres and reneges.
No table talk regarding the current hand. Talk your heads off about everything else. THIS IS A SOCIAL EVENT!
Don't be a jerk!
Have fun!
Register so that we can track your seats and scores. We use text messaging to assign seats and record scores.
If you are registered and logged in, you can see your scores on your Dashboard